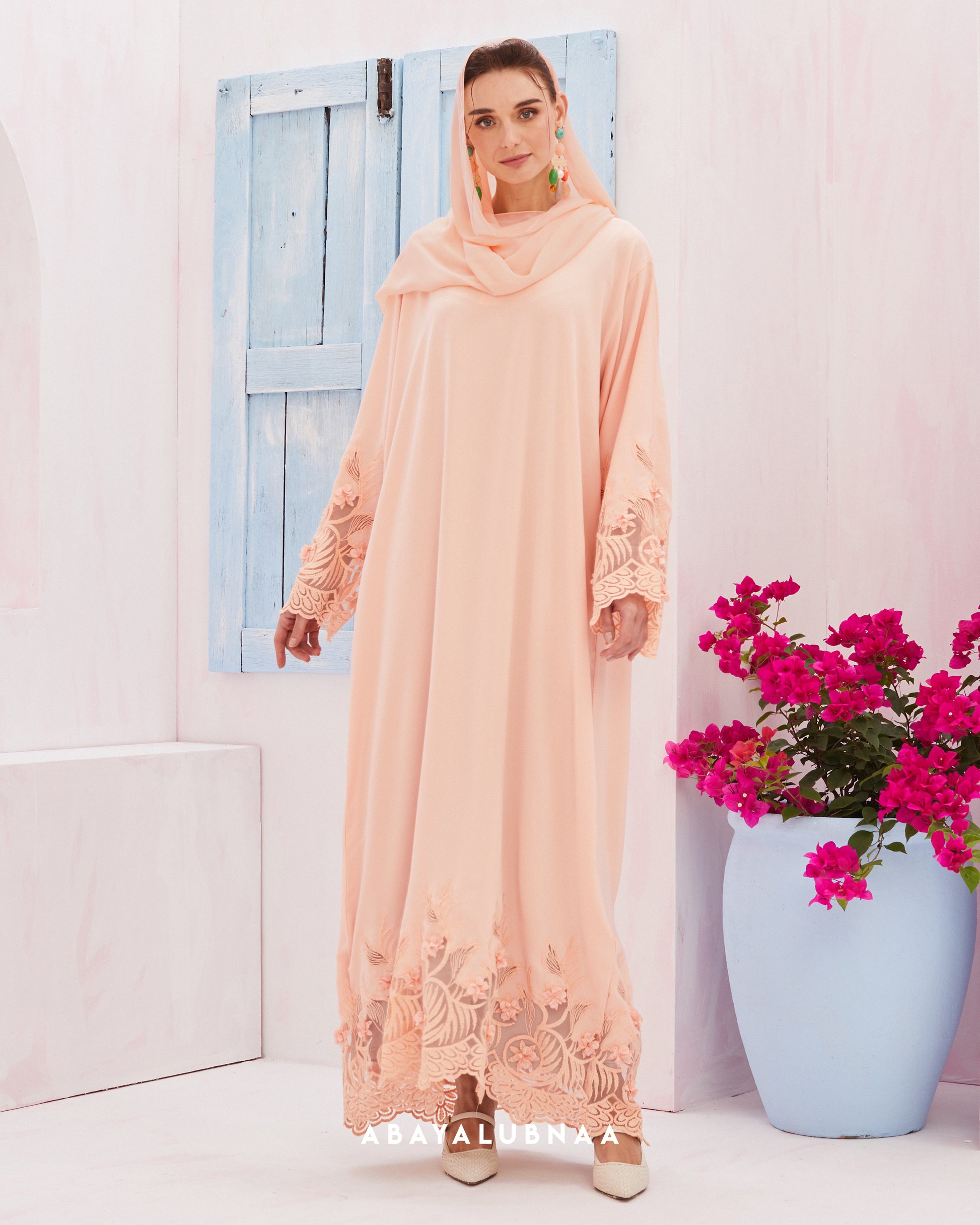 Callie Abaya in Pastel Orange
Regular price
RM280.00 MYR
Sale price
RM280.00 MYR
Regular price
RM550.00 MYR
Tax included.
Product description
Product Details
Callie brings the festive abaya to another level for #lubnaalebaran2023. Celebrate in full bloom with 3D floral appliques and lace cutouts that are splendiferous with feminine flair. Freshen up your Raya look with an instant upgrade to your abaya style in a design that sums up Syawal with absolute sophistication. 
Flowers emerge on the delicate fabric, adding depth and texture, while the softness of the material defines your figure, creating movement throughout the outfit. Straight cutting with a peek-a-boo lace inspire an airy lightness, extravagant on the detailing but minimal on the structure.
Callie is beautified with premium lace, exquisitely patterned with intricate blossoms and sinuous foliage bordering the hem and sleeves of the abaya. Available in 3 pastel colors, Callie in these cheerful colours will definitely brighten up your festivities this #lubnaalebaran2023.
DISCLAIMER : Bear in mind that all the photos are captured in a photography studio with controlled lighting from all angles. The colours are made to be as close to the original colour as possible. Colours might vary from each smartphone OR computer settings.
SHAWL
Shawl will be given based on the availability of material in the colour that will match the abaya the best.
Material:
Premium Nidha
Details:
- Close Type
- V Neck
- Straight Cut
- 3D floral appliques and lace cutouts on the sleeve and hem
- Model is wearing size 58
- Model height : 175 cm
Care Guide:
Hand Wash