News
Entice Your Heart with Beauty and Charm of AMALIA
by udd zainuddin on Jul 12, 2023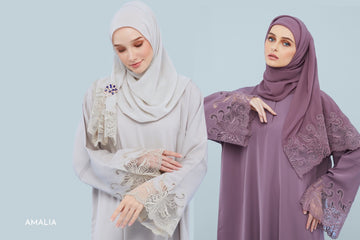 Amalia's heart fluttering flowers will entice your heart with beauty and charm. A concatenation of lilies flows freely through the lace detailing, enriched with crystal stones that sparkle and delight as it touches a glimmer of light. Parallel lines curve around the sleeves, creating a contemporary contrast to the loops and twirls of flowers forming the edge.

Amalia has a floor-skimming hem that hangs over your frame, draping gorgeously into a voluminous shape for a breezy style, ideal for full on merriment and beyond. Cut for a relaxed fit, the abaya envelops your figure without clinging to the skin, allowing a modest silhouette that is apt for formal events.

Available in five pastel colours, Amalia gives you a multitude of choices fo your year. Pick the one that resonates with you the most to help you enjoy the rest of 2023 with clarity and utmost devotion.