News
Halima Abaya is a high-impact look with minimal fuss.
by udd zainuddin on Jul 09, 2023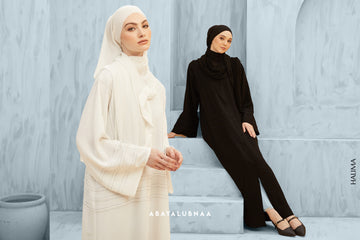 Welcome the new year with the halima. Keep it casual by wearing it unbuttoned and paired with your favourite jeans and t-shirt combo or emerge as an elegant queen by buttoning it up and accessorising with exquisite jewellery and classy stilettos.
Halima has a contemporary feel with hidden buttons that allows you to dress it up or down, depending on your mood. In this modern abaya, you can pull off a fashionable modern look without compromising on modesty.
The special pin tuck line stitching on the sleeves and sides creates a lovely silhouette that flatters all body types so it's perfect even as a gift for your mum or bestie.
Comfortable, airy and made from a cooling material that requires no ironing, halima is the perfect basic outfit that every girl truly deserve.
Halima Abaya is a high-impact look with minimal fuss. Clean lines and a classic cut come together seamlessly in a design that prides itself on being an evergreen choice that will stay relevant for countless seasons.
Perfect for all shapes and sizes, the textured detailing in Halima features dashed stripes in the front and back for a modern finish that is timeless and exclusive.
Available in Meteorite and Off White, this open-type abaya is elevated enough to be worn on its own or layered over a dress or pantsuit. Crafted in a comfortable fabric, loose-fitting and easy to style, Halima allows you to stay on trend with the least amount of effort.